Despite decades of struggle, the climate justice movement's demands for Systems Change Not Climate Change remains an elusive slogan. Fossil-fuelled floods, air pollution and rising temperatures, like COVID-19, disproportionately impact people of colour, low-income and other marginalised communities. When looking at intersecting injustices, the scale of change needed can feel overwhelming. But, we think community power can tip the scales back in favour of people and planet. 
Tipping Point UK is a new organisation that launched last year with support from bold funders like Lankelly Chase who shared our belief that the climate movement cannot win if it's a mile wide but only an inch deep.   We exist primarily to build and serve the power of grassroots groups to tip the scales towards systemic solutions for climate justice. And we believe that a better world emerges when we build not just a critical mass of people power but also the critical movement connections and relationships that can break down polarisation, isolation, division and prejudice.  
Only when we work together to push and pull at the root causes of injustice will we uproot the old system and have the bonds we need to imagine and build a new world in its place.  Since we launched, Tipping Point UK has been working behind the scenes to build, train, support, and organise national grassroots networks that propel climate justice into the national spotlight and win lasting change. 
In just under a year, we helped inject new momentum, innovation and energy into the fight for climate justice on three important fronts.  We stopped an iconic North Sea oil & gas project Cambo and have now moved on to targeting Shell's latest new gas field (#StopJackdaw). We seeded movement-wide actions, discussion and demands around climate reparations with diverse groups working to stop racialised, gendered, and other identity-based exposure to social, political, economic, environmental and climate injustice (such as through the Stop the Silvertown Tunnel campaign). And by supporting the Defund Climate Chaos network, we put the UK's financial sector's fossil fuel funding firmly in the spotlight through COP26 and powerful mobilisations. 
Our model of organising takes a lot of inspiration from various decentralised, networked movements around the world who understand that transformation requires more than top-down reforms, or simply pointing fingers at everything that needs changing. Like many movements that came before us, we understand transformation as rooted in shifting how we relate and build with one another to create worlds by everyone for everyone. We celebrate differences and identify ways in which our differences enable richer and emergent co-creation. We build webs of support to help us find and communicate with one another, access resources, take action, win, grow our power, reflect, celebrate, learn, and become bolder over time. 
We believe in supporting grassroots groups and networks in an unbranded way to grow their own people power, and we see ourselves as one small part of a broader movement ecology advocating for change in different ways. The groups we support range from those with working class and race based exposure to injustices such as air pollution, fuel poverty or school exclusions, to groups working on housing, migration, land, food, disability, LGTBQI liberation, to groups resisting corporate extractivism and exploitation in the Global South and in the UK, and many others. We have prioritised our support to help groups weave together networks that can self-organise and build decentralised community power. We think growing people power – with at least 3.5% of the UK public taking action for justice – can transform the political weather and turn the impossible into the inevitable. Together, we can withdraw consent for a world that prioritises profit and start co-creating one based on care, repair, and regeneration. 
We rely on momentum-driven organising theory, which aims to integrate the best of structure based organising (developing leadership within communities, having specific and actionable demands that make concrete improvements in peoples lives, for example), place based organising (led by our brilliant distributed team of regional organisers), and mass action which can leverage bold imaginative demands, grow our power, and create shifts in public opinion. We are supporting networked groups with strategic campaigning, telling powerful stories, and building structures that nourish and enrich engagement to sustain and grow their community's power. We have gathered in community spaces across the UK and globally (online) cultivating cultures of deep recognition, listening, and trust. We share data (with consent), content and online tools that help grow networks and bring more people into movement spaces, and build bold shared values so that we can win more together, and win more ambitiously over time. 
If we want to create a healthy movement ecosystem that supports beautiful diversity, we need to invest in the nutrients that grow movement infrastructure – capacity building, platforms for self-organising, story-telling, culture forming, strategy and learning, political education, direct service, land, and material needs (from translators and interpreters, food, transport, child care to physical space and much more). Typically, funders have focused on the large organisations – the trees that take a long time to grow but are relatively stable if not inflexible. We want to contribute towards building a more responsive and diverse movement ecosystem and are grateful for the support which allows us to experiment, adapt and respond to group and network needs in both planned and emergent ways. Whilst our work is not always predictable it does, we believe, help us grow towards bold transitions that are rooted in collective liberation, decentralised and accessible processes, and practices that cultivate transformative relationships of connection, belonging, and action.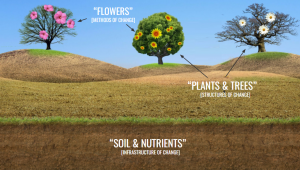 Where we are…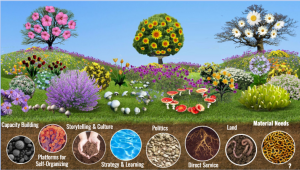 Where we want to be…
Comments (0)