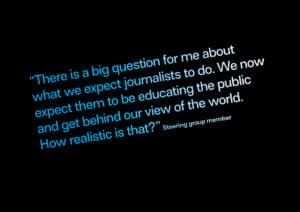 We commissioned 'Telling a Different Story' to create a more in-depth, collective understanding of how, and why the media currently reports on severe and multiple disadvantage (SMD) in the way that it does. Partly because we believe the media has a vital role in shining a light on the unequal distribution of power and in holding those in positions of power to account. Partly because at its best, it can be a platform that encourages us to try on different perspectives and create understanding and empathy between people. Also knowing that at its worst, it divides us.
A striking conclusion made in this report is that the majority of articles lacked the diversity of views and voices of people with direct lived experience of SMD. Coupled with an apparent lack of trust between journalists, people with lived experience and the charity sector, one of the most important recommendations is the undeniable need to form stronger and deeper relationships. If we can create empathy amongst ourselves, then it will make it easier to bring in distinctive voices, and different types of stories into mainstream media.
One of the other critical findings is that for now, most news media is focused more on reporting the symptoms rather than the systemic causes of severe disadvantage. Yet we know that for the most part, it is systems that keep people locked in cycles where they experience both severe and multiple forms of disadvantage.
This might be because this work is happening against a backdrop of unprecedented change within the media sector. I am not sure it truly fully recovered from the economic downturn in 2007, with ad revenues shifting dramatically from print to online leaving gaping holes in previously lucrative revenue lines. One of the knock-on effects has been a need for media outlets to pursue digital impressions over deeper engagement and investigative journalism. Supporting investigative journalism is an area we are thinking a lot about at Lankelly Chase, whether at a local or national level as it is here that journalists can really speak truth to power.
We designed this research to reveal the media system to us all and not to spend time apportioning blame. Instead, we would like to use this as a catalyst for identifying where we can support the conditions for change to occur. Most importantly, there is an opportunity and a desire to ensure the media is more representative of all people who live in the UK and to invigorate and strengthen original, fact-based quality reporting.
In a couple of weeks, we will be launching an initiative to inspire new connections and conversations about severe and multiple disadvantage. In the meantime, we would love to hear all your different views in response to 'Telling a different story.' We hope it will spark many new conversations and actions about what we can all do to tell different, and more inspiring stories about how we are changing the systems that perpetuate extreme disadvantage – so please join us!
If you are on twitter then get involved by using #adifferentstory #connected.
If you have any further questions, please email me on carrina@lankellychase.org.uk.
Comments (0)