Funders' Commitment on Climate Change
We are pleased to become signatories today to the Funders' Commitment on Climate Change. This initiative is thanks to the hard work of several colleagues across the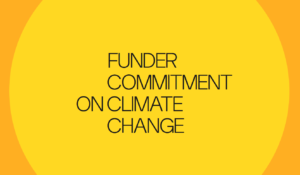 foundation sector, notably Nick Perks. We are grateful for their leadership.
By becoming signatories, we commit ourselves to audit the impact of our work on the climate. We will publish a full impact assessment in each of our forthcoming annual reports, and we will blog regularly on progress.
The breadth and depth of the Commitment will be stretching for us, not least because we know we need to act ambitiously. To date we have made most progress on our investments, which we consider the principal priority. We set out here the main steps we are taking:
We have now signed the DivestInvest pledge, sold all our directly-held investments in companies deriving more than 10% of their revenue from fossil fuel production, and excluded them from our portfolios.
We've been engaging each of our investment managers on their efforts to take account of climate science and policy in their investment processes.
We will be publishing our top ten holdings every three months, and making our entire investment portfolio public.
We're increasingly scrutinising the nature and quality of investor engagement on climate breakdown, and considering strategies to make this more robust.
We have joined the Institutional Investors Group on Climate Change (IIGCC), where we are collaborating with others to design investment approaches aligned with the Paris Agreement.
Alongside other charities and foundations, we are also engaging with the Charity Commission on whether its guidance and the legal framework on investment responsibilities need to be clarified in light of the climate crisis.
We expect all of this to lead to meaningful changes in our investment strategy during the first half of 2020. For more detail on our investment approach, take a look here.
Please do get in touch if you'd like to know more, or if there is good practice that you'd like to share with us.